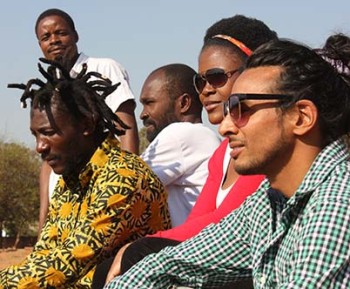 Neil and The New Vibration
Genre :
Fusion,
City :
Lilongwe,
Country :
Malawi
Biography
Neil & the New Vibration are a UK/Malawian band who came together in 2013 in Area 23 Lilongwe and in 2014 released their debut album 'Made in Malawi.' The songs are a mix of local traditional Malawian styles mixed up with European country, jazz and folk styles, giving them a unique flavour which has found popularity on different sides of the globe. The musical tradition that Neil comes from is very different from Malawi, which is why he came here in the first place - to discover something new. And unexpectedly for him he found a public who were also willing to learn about his own traditions musicially which led to the idea to form a fusion band that plays those different forms of music in a hamonious way. The Malawian musicians that came to become the band are all quite celebrated in other bands - The rhythm section coming from Konkalazi, the guitarist from the new Kalimba and the backing vocalist from the Daughters Band. They are like a family, an attitude towards living that has caught hold of the English singer who after 3 years in the country has decided to locate here permanently. And that closeness comes through in the music which is tight, rhythmic and often deeply touching in the way that the elements of music complement eachother. The songs from he first album were all written here and the album was recorded here though mixed in South Africa due to the live nature of the recording. The songs on the album come from Neil's direct experience in leaving home, living on the road, taking chances, listen to your heart and finding love after a long time waiting. The band hope to go from strength to strength and tour Southern Africa and beyond over the next two years and to then release a second album.
Discography
Almost Revolution
# of songs : 1
Genre : Fusion
Year : 2020
Country :
Type : Single
Review : After recording his last solo track in 2016, here's another solo track by guitarist Neil Nayar titled "Almost Revolution"


Made in Malawi
# of songs : 10
Genre : Fusion
Year : 2014
Country : Malawi / UK
Type : CD
Review : The musical tradition that Neil comes from is very different from Malawi, which is why he came here in the first place - to discover something new. And unexpectedly for him he found a public who we


Copyright © 2024 Malawi Music Mobile | All Rights Reserved. View this page on the
desktop site